Lets get started
The stock market is a fascinating concept. The ability to buy and sell portions of ownership in public listed companies is an exciting prospect to many people. However, there are some things that stock market investing beginners should know in order to develop an understanding of how the market works. Here is a rundown of five interesting facts you may not know about the how the UK stock market works.
1. There are two markets that trade on the London Stock Exchange
You could be forgiven for thinking that the stock market was just one big market of companies. However, there are actually two markets that make up the UK stock market. We have the Main Market and the Alternative Investment Market, commonly known as AIM.
There are approximately 1200 companies listed on the Main Market with a total share value of £3.7 trillion. The Main Market contains the larger companies. Then there are around 900 companies listed on the AIM with a total market value of over £70 billion. Companies listed on AIM are typically smaller, earlier stage companies. The figures will fluctuate a little as companies enter and exit the markets.
Shares in both the Main Market and AIM are bought and sold in the same way on the London Stock Exchange. This is usually done via an online stockbroker.
2. The London Stock Exchange processes millions of trades every year
According to London Stock Exchange Group data, 272.6 million trades were made in 2018 at an eye-watering total trade value of £1.4 trillion. That equates to an average of 750,000 trades per day.
Every time a share is bought or sold the London Stock Exchange have to carry out the transaction and record the details. Historically, this process was done manually using the postal system to send and receive cheques and paper share certificates.
Thankfully technology has moved on and just about every transaction is completed electronically now. This helps make the process much quicker. The London Stock Exchange settle most transactions within three working days. For an investor using an online stockbroker during trading hours they will see the transaction completed almost instantly in most cases.
3. It's not just UK companies listed on the London Stock Exchange
There are a total of 2075 companies listed on either the Main Market or AIM whose shares are available to buy and sell publicly.
It's not just UK companies that trade on the London Stock Exchange. Companies from across the globe choose to list their shares on the UK stock market.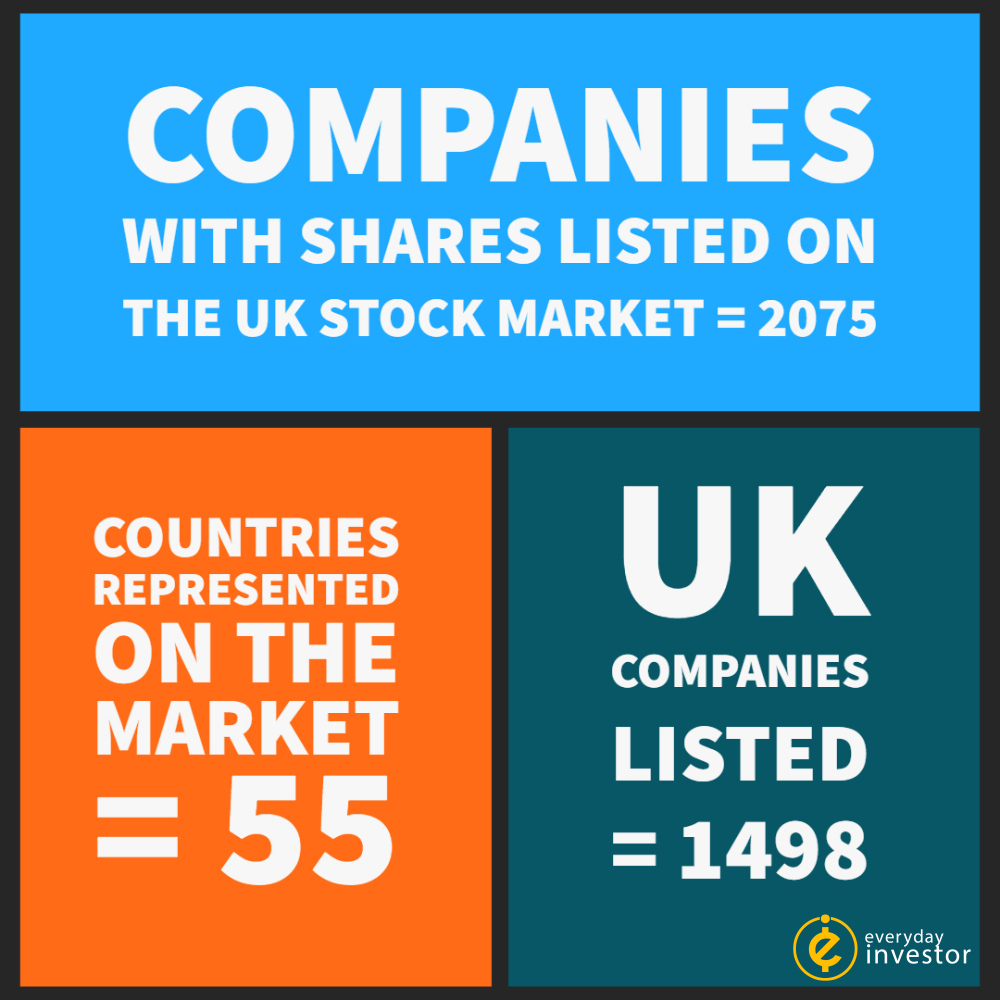 To give you a flavour of just how diverse the UK stock market is, only 1498 of the 2075 companies listed on the UK stock exchange are companies registered in the UK. There are 55 other counties (including overseas territories and crown dependencies) represented on the market.
Aside from the UK, the top five represented on the London Stock Exchange are:
Guernsey – 110 companies listed
Jersey – 68 companies listed
Ireland – 51 companies listed
British Virgin Islands – 37 companies listed
Isle of Man – 34 companies listed
Looking beyond these, you then have the likes of Russia with 22 companies and the United States with 20 companies listed on either the Main Market or AIM.
4. You don't have to live in the UK to trade on the UK stock market
Similar to the international diversity of the companies listed on the UK stock market, investors themselves come from all corners of the globe. The UK stock market is not a closed market. People from across the globe buy and sell shares in UK public listed companies.
This works both ways. Investors in the UK have the option of trading shares on foreign stock exchanges worldwide too. A popular one tends to be the New York Stock Exchange as many well-known brands are listed on the exchange such as Amazon and Apple.
5. The UK stock market has set opening times
The London Stock Exchange is open for trading Monday to Friday between 08:00 and 16:30. This means that you can view live buy and sell share prices and make a trade based on these prices via your online broker during these hours.
However, with many brokers you can still order trades online outside of these hours. When making an order you set a maximum buy price or a minimum sell price. Then, when trading next opens the broker will attempt to action the order. Whether they are able to complete the order will depend on whether the share price has exceeded your limit when the market opens.
Get in touch with your interesting facts
So, there you have it. Five interesting facts investing beginners should know about trading shares on the London Stock Exchange. If you have any more facts you have learned that you think are interesting let us know and we will share them too.
If you're keen to learn more make sure you check out the rest of our website or grab a copy of our free Beginner's Guide to Investing in the Stock Market.
---
Data source: London Stock Exchange. Data correct at 31 January 2019.
All our content is provided for educational purposes only, to help you make your own decisions. We don't provide personalised advice and therefore our content should not be considered an invitation, inducement or recommendation to engage in any particular investment activity. Please review our disclaimer and website terms for full details.